THE COMBAT UNIVERSITY
A DIVISION OF RAIDON TACTICS INC.
Integrated Self Defense Training for as little as $49 a month
WHY SIGN UP FOR THE COMBAT UNIVERSITY?
1 IN 6 PEOPLE WILL FIND THEMSELVES IN A VIOLENT SITUATION IN THEIR LIFE. Do you feel confident you can defend yourself in a violent situation?
We've created an online or in-person curriculum to train you in self-defense using FIREARMS, COMBATIVES, AND MEDICAL SKILLS to help you DEFEAT THE ODDS AGAINST YOU IN THE WORLD TODAY
What is The Combat University?
The Combat University is an institution dedicated to training people just like you with different methods to defend yourself in any situation.
By either joining us at our In-residence Campuses in Bunnlevel NC or online, you can learn these skills from qualified Instructors with over 40 years of Special Operations Experience, our world-class instructors will teach you the necessary skills to face your threats head-on.
Frankie McRae
Founder of The R.A.I.D. Tactical engagement System
Frankie McRae is a Green Beret, Army Ranger and the former head of the Hostage Rescue and Counter-Terrorism School for the US Army Special Forces at Ft. Bragg N.C. He served in the 1st and 3rd Special Forces Group and 1st Ranger Battalion. Frankie was the senior enlisted advisor to Iraqi Counter-Terrorism Force (ICTF) and a proven combat leader on many missions in Iraq, Afghanistan, and the Philippines. He was a Master Breacher, Sniper, CMMS Instructor, High-Risk Driving Instructor, Special Targets Instructor, and High-angle Assault Instructor while in the Army. Frankie attended the Israeli Counter-Terrorism Course as an exchange instructor. He is a Blackbelt in the U.R.B.A.N combative system, a certified Special Forces Hand to Hand Combat Instructor, and Level 4 certified in Krav Maga.
Sean O'Dowd
Co-Founder of the R.A.I.D. Tactical Engagement System.
Sean O'Dowd is a retired Master Sergeant from the United States Army Special Operations Command. He is a former Army Sniper, Reconnaissance Team Leader, Master Breacher, Small Arms Master Gunner, Master Army Combatives Instructor, Special Operations Combatives Instructor, Subject Control and Apprehension Techniques Instructor, Krav Maga Level 5 Instructor, Muay Thai Practitioner, BLS Instructor, and Certified Tactical Fitness Trainer. He is the Chief Instructor of Vigilance Combatives. He holds 4 Black Belts and is a North Carolina State Champion. He has used his training in the real world as a Purple Heart Combat Veteran. He holds a degree in Emergency Management and Leadership Management.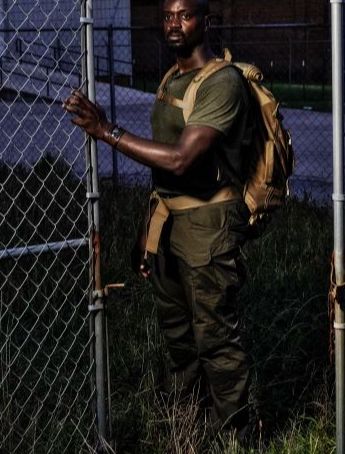 Hakim Isler
Hakim Isler (aka the Black MacGyver) is the nation's premier professional African-American survival expert. A combat veteran, Isler studied at the U.S. Army's Survivial, Escape, Resistance and Evasion (SERE-C) school before undertaking advanced survival training at several Survival Schools. He is a specialist in combat weapons, executive security, close protection, disaster psychology, and psychological operations; is trained in both asset and event protection; and is certified in emergency management, disaster mitigation, human intelligence, shooting tactics, tactical combat casualty care, and wilderness first aid. Isler instructs at various levels, ranging from training high-level professionals in defensive tactics to teaching kids at his own dojo for 15 years (he is a fifth-degree black belt in Ninjutsu and a Guru in Kali and Silat). The author of several emergency preparedness manuals on survival and of four books, Isler has also invented and patented survival-related products. His expertise in survival, defense, and escape tactics within both wilderness and urban environments led to his appearances on Discovery Channel's Naked and Afraid and Naked and Afraid XL, FOX's Kicking and Screaming, and Discovery's First Man Out—not to mention The Kelly Clarkson Show. With a strong belief in supporting the community, Isler has developed inner-city youth empowerment programs and is the founder and president of The Soil Foundation, a wilderness therapy and survival training nonprofit.
SCHOOL OF R.A.I.D.
A training and education program that utilizes a combination of knowledge, skills, and equipment, to employ correct tactical responses and integrated fighting disciplines in a violent situation. This course integrates firearms, hand-to-hand Combatives, and a Medical Skills curriculum. SIGN UP NOW to learn more. Just $49.99 a month and you can cancel at any time!
SIGN UP NOW
SCHOOL OF APPLIED KINETIC DIPLOMACY
Training in Combat Marksmanship for kinetic engagement of pistol, rifle, and shotgun. This curriculum covers the employment of firearms in a number of self-defense situations based on techniques taught to U.S. Army Special Forces Operators. SIGN UP NOW and choose Online or In-Person resident classes to learn more. Just $49.99 a month and you can cancel at any time!
SIGN UP NOW
SCHOOL OF FIGHTING ARTS
Learn a variety of offensive techniques which include turning defense into counter-offense. Students will learn to neutralize multiple assailants and defend against firearms, edge weapons, or blunt objects. Students will apply these principles in a multitude of situations. SIGN UP NOW and choose distance or resident classes to learn more. Just $49.99 a month and you can cancel at any time!
SIGN UP NOW
Individual Physical and Cyber Protective Measures Seminar Series (online)
A 23-part multi-series of Seminars given to different groups on Physical and Cyber Protective measures that enable you to reduce your signature to both physical and cyber threats. Topics discussed are Terrorism, Natural Disasters, Active Shooters, Cyber threats, Cyber risk mitigation techniques, and more.
With a really low subscription price of $29 you can study the many hours of information as you need. The great thing is when you are done cancel your subscription with no problem.
This series is a joint effort between James Tiller and Frankie McRae that gives the student the tools needed to reduce and mitigate risks.
Sign up Now